Roofs come in varied styles and designs and different from different materials that have different life expectancies. The most common roof styles are the slope and flat roofs and each requiring certain types of roofing materials. The following are materials used in the construction of sloped roofs.
Asphalt Shingle Roofing
Asphalt shingles have a weather-resistant granulated stone surface layers over an asphalt coated fiber or fiberglass base. How long these roofing materials last depends on the thickness of the shingles, impacts of climate changes, as well as the pitch of the roof. Nevertheless, asphalt shingles have a life expectancy of around 12 – 30 years.
Roll Roofing
Rather than having rectangular shingle, roll roofing is done using long thin sheets that are manufactured the same way as asphalt shingles though thinner than asphalt shingles. Roll roofing materials have a life expectancy of 8 – 10 years.
Slate Roofing
Slate is one of the oldest roofing materials in use today; it has been used for centuries. Slate, a natural stone, is a common choice of slope roofing material because it is waterproof and can be split into several thin layers. How long the slate lasts depend on the type of slate and its source. A slate roof is estimated to last anywhere between 75 and 200 years.
Wood Shingles and Shakes Roofing
Many avoid using wood as roofing material because it is susceptible to shrinkage, warping, and cracking. However, adequately treated and well-maintained wood shingles can make a roof that lasts for nearly 20 – 60 years.
Clay Tile Roofing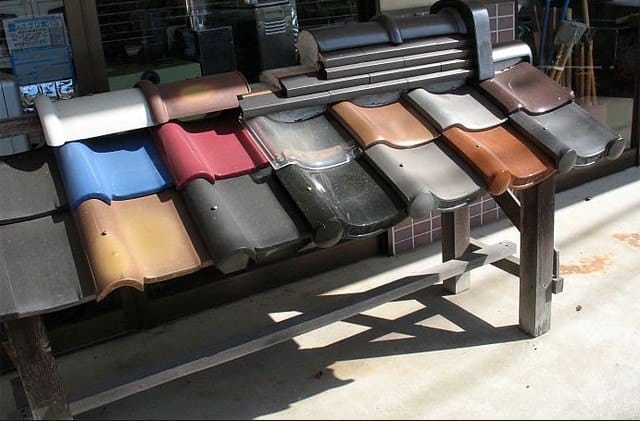 Clay and concrete tiles come in different colors, shapes, and styles. They are designed to interlock or overlap when attached to the roof's decking. Clay tiles are very robust and know to withstand very harsh weather conditions such as force winds. The tiles can last for more than 100 years, but the only issue that may pose limitations would be the underlayment used, which has a life expectancy of 10 to 20 years. The other limiting issue would be the maintenance of the roof.
Flat roofs are mostly used for commercial building though some residential buildings are also made suing this roofing style. Flat roofs use different roofing materials from those of sloped roofs. The materials used for flat roofing include:
Foam Roofing
Affordability and insulation qualities are major reasons why foam roofing has rapidly become popular in just under 30 years. Foam roofs have a life expectancy of 10 to 15 years but can last twice as long if recoated after every five to ten years.
Built Up Roofing (BUR)
BUR (Built Up Roofs) are made from layers of asphalt coated industrial fabrics covered with granulated materials such as crushed stone; coal tar can also be used to cover the fabrics. How long they can last depends on the roof construction material used though BURs can last around 20 – 30 years.
Thermoplastic Polyolefin Roofing (TPO)
TOP (Thermoplastic Polyolefin Roofs) are made from a polymer material attached to the roof's decking using different methods that include nailing, screwing, gluing, or pressed down in place by a cover of a heavy material such as gravel. TPOs can last anywhere between 10 and 20 years.
Other Single Ply Roofing Materials
PVC (Polyvinyl Chloride) or synthetic rubber are other single ply roofing materials used in the construction of flat roofing. They can also be attached to the decking using different methods including covering them with granulated stones or ballast to hold them in place. These roofing materials can last 20 -35 years.