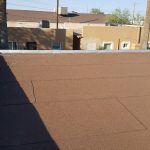 If you are looking for affordable flat roof repair Casa Grande, you've found it!  Castile Roofing is here to tend to your roof repair needs promptly and at an affordable rate.  Our roofing company is license and bonded to provide prompt and reliable roof repairs.  In addition, we strive to serve our customers with our quality roofing services at an  affordable rate.
We service all of Maricopa County, along with  parts of Pinal County.  Whether you're in Casa Grande, Arizona City, Maricopa, Coolidge, Eloy, Florence or San Tan Valley, we will heed to your roofing call.  As a result, giving you the peace of mind of having a healthy roof again, while not breaking the bank to do so.
The Up Side of Having Flat Roofs
Flat roofs are mostly installed on the rooftops of commercial buildings and industry.  Although, they are also used in residential areas, they are not very common.  They are mostly sought because they are very affordable and continue to be cost effective.  Single-Ply roofing is the most durable against any kind of weather or storm.  In addition, as long as they are installed properly, they are completely sealed from leaks coming through at the seams and joints.  Likewise, the coatings used on flat roofs are extremely resistant to the outside elements.  Giving them up to a 30 year life span.
Flat Roof Repair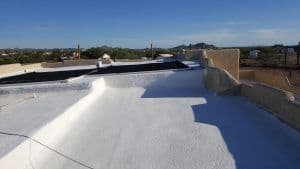 Once we clear away any and all debris from the rooftop, a webbing mesh is laid down and then super putty is used to patch and keep the underlayment of wood free from moisture.  After that, we carefully lay out the rolled roofing where needed, on top of a coat of adhesive.  During this whole process, paying attention to overlap properly, and to lay flatly and smoothly.
Once that is completed, Castile Roofing will coat the flat roof with the choice of two coatings.  Elastomeric or Silicone roof coating.  While we highly suggest using a silicone roof coating because the have a tendency to shield your roof better from our extreme Arizona summers and monsoon seasons.
You will have a peace of mind after Castile Roofing completes your flat roof repair Casa Grande residents!  Give us a call or fill out a repair estimate request by clicking HERE.