We're Surprise's Top Roofing Experts
We're the roofing experts Surprise residents rely on.  We've helped hundreds of residents just like you fix their leaking roof when other roofing contractors weren't able.  All of our roofers take pride in their work, which is why every one of our repair jobs come with a 2-year warranty, or a 5-year warranty on a full roof replacement.  Our goal is always to ensure that we've stopped your roof leak, replaced your broken tiles, and restored your roof to 100%.
Ask any one of our Surprise, Arizona customers and they'll tell you why we're the best.  The majority of our work comes from referrals as our existing customers know we leave nobody behind.  From shingle to tile to flat roofs, Castile Roofing is your roofing expert when you're in need of roof repair or replacement.
Trusted Roofing Services in Surprise, AZ
At Castile Roofing, our integrity is our pride.  No matter the circumstances, we stand behind our work, and our words.  Our guys always show up when they're supposed to, do what they're contracted to do, and bill fairly and only for what you need.  The unfortunate reality is that the typical homeowner isn't going to climb up on their roof to see what state it's in, or what work roofing contractors have actually completed up there.  This leads many to take advantage, and bill for roofing items they haven't completed, or simply do substandard work and bill a full price.  Every employee at Castile Roofing takes Before and After pictures so Surprise homeowners know exactly what their problem was, and how it was fixed.  Most importantly, they know that they're paying a fair price for good service.
We Work on Both Commercial & Residential Roofs
Castile Roofing has experts that specialize in both residential and commercial roofing systems.  No matter what your needs are, Castile Roofing has the expertise to help.
Surprise Roof Repair
Tile Roof Repair
Most people are shocked to find out that roof tiles can last upwards of one hundred years. The problem that usually occurs though is the underlayment underneath the roof tiles begins to ware-down after 15-25 years due to weather elements. If the underlayment on your Surprise roof has not been installed correctly, this can decrease the longevity of your roof by as much as five years.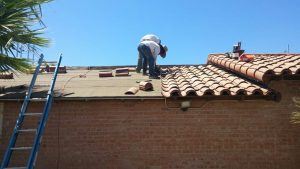 At Castile Roofing when we come and assess your tile roof in Surprise, we will look at the underlayment and assess if we can do a small repair or if it is economical in the long run to replace all of the underlayment.
Tile Roof Replacement/Tile Underlayment Replacement
A large misconception that many homeowners have when they purchase a home with a tile roof is what roof replacement means.  When it comes to tile roofs, they aren't there for just visual appeal, but because the tiles themselves can last for 100 years alone.  A tile roof replacement involves lifting up the current roof tiles, removing the wood battens and previous underlayment, and then installing new wood battens and new underlayment.  The roof tiles themselves are typically not replaced.  Ultimately, it's the underlayment that's responsible for keeping the inside of your house dry, so replacing a roof involves replacing the underlayment.
Here at Castile Roofing, our crews do dozens of full underlayment replacements a year throughout Surprise and the West Valley.  If you have questions or are interested in getting an estimate, give us a call today, or fill out our Quote Request form below.
Shingle Roof Repair
Most asphalt shingle roofs are designed to last 30 years, and some even longer.  In Surprise, it's not uncommon to see shingle roofs get close to 30 years, however there are likely to be some repairs along the way.  It's not uncommon for shingles to lose their adhesive capabilities due to high winds and age in years 20-30.  The majority of the time, this can be easily repaired with the installation of new shingles.  Our experts at Castile Roofing will assess the health of your roof as a whole, and decide whether repair or replacement makes more sense.  When it comes to a shingle roof, honesty is of the utmost importance as many roofing contractors in Surprise can be quick to sell you a new roof.  At Castile Roofing, we're here to only do what's best for the customer, and a lot of the time that means just repairing the issues at hand.
Roof Leak Repair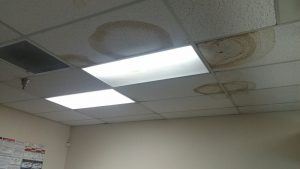 The most important job of any roofing company in Surprise is to fix leaking roofs.  In Surprise, there's an abundance of tile roofs, and when they get into the 15-20+ years of life, it's common for them to develop leaks.  At Castile Roofing, roof leaks take the utmost priority.  We'll send our experts out to your home within a few days and get the leak stopped in its tracks.  No matter the type of roof, Castile Roofing can fix your leak quickly and for a fair price.
Foam Roof Repair
Foam roofs are a great choice for unique Surprise homes.  If your roof has twists and turns, the foam can adapt and fill the crevices better than other roofing systems.  However, foam roofs do need repair and maintenance with time.  A recoating is necessary every 5-7 years on foam roofs to ensure its health.  As long as the coating is maintained, foam roofs can last upwards of 30 years without issue.  If your foam roof is in need of repair, don't delay and risk replacement.  Castile Roofing can repair your foam roof, and ensure you get the maximum life you deserve.