We're Avondale's Top Roofing Contractor
We are Avondale roofers who have helped countless Avondale residents with their roofing problems. We pride ourselves in the quality of our services. We're so confident that we can solve your roofing related needs that we offer a 100% satisfaction guarantee on all of our AZ services.
The majority of our Avondale, AZ customers are derived from from referrals. It is our agenda to offer only the best roofing practices know to Avondale and in turn we are certain that you will you refer your friends and family when they are experiencing roofing issues.
Trusted Roofing Services in Avondale, AZ
At Castile Roofing, our integrity is our pride. Said simply, we do what we say. This means we show up when we say we will, deliver the quality of roofing work we promise bill at a fair rater as agreed upon. It is the unfortunate case that due to poor roofing practice and outproduces, many roof leaks and maintenance issues are caused by negligence from roofing companies.   Even if you think you've tried everything, and no one else has gotten results, Castile Roofing will  decipher the problem and promptly resolve it.
We Work on Both Commercial & Residential Roofs
Castile Roofing has experts that specialize in both residential and commercial roofing. So if you have a commercial or residential roof, we can help you assess, fix, and repair your problem.
Avondale Roof Repair
Tile Roof Repair
Most people are shocked to find out that roof tiles can last upwards of one hundred years. The problem that usually occurs though is the underlayment underneath the roof tiles begins to ware-down after 15-25 years due to weather elements.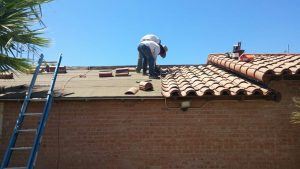 If the underlayment on your Avondale roof has not been installed correctly, this can decrease the longevity of your roof by as much as five years.
At Castile Roofing, and after the call for service, when we come and assess your tile roof in Avondale we will look at the underlayment and assess if we can do a small repair or if it is economical in the long run to replace all of the underlayment. This is determined after the repairs agreed upon in the immediate calling are complete.
Shingle Roof Repair
Depending on the roofing material that the contractor who constructed your roof chose, the expected time frame  that a shingle roof will last upwards of 30 years. At Castile Roofing we will assess if it is more economical to replace the entire roof or if it is possible to just repair the problem areas of the roof.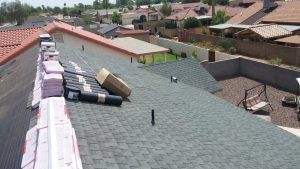 Typically however, spots on the roof may be repaired to give you a few more years of performance.
Roof Leak Repair
Castile Roofing has been called to Avondale homes that have been leaking for many years now. We have rectified roofing issues that are the result of improperly installed, brand new roofs.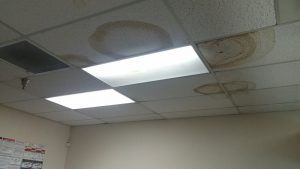 No job exists that is to difficult, no issue we can't promptly and effectively resolve.
Foam Roof Repair
Left unmaintained, foam roofs are preform the worst out of any other roof. Obviously if a foam roof is properly maintained the longevity will increase dramatically. A typical foam roof will last about ten years however a full Avondale foam roof repair can add an additional years of life onto your roof.