Understanding Commercial Built-up Roofing Design
Commercial built-up roofing (BUR) is one of the oldest roofing designs still in current use. It is a type of hot tar roofing that dates its use since the 1800s. This type of roofing is an ideal choice for commercial properties and remains one of the most popular choices for such properties. This type of roofing uses a layering system to create a resilient and waterproof design.
The layering effect contains a combination of materials. First, it starts with base sheeting; done with fiberglass, an asphalt coated sheet, etc. After that follows several fabric layers; felt, cotton, or burlap treated with tar or coal. Then a modified bitumen membrane (heated asphalt commonly, but other substances such as coal or tar may be used) creates the waterproofing for the roof. After this process, comes
the final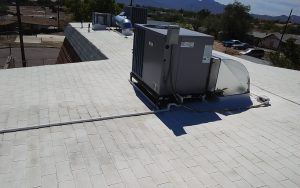 protective surface coating. This surface coating would be a coating sheet, asphalt, or the like.
Advantages of commercial built-up roofing
Among types of flat roofing systems, BUR offers several key advantages to commercial property owners. First, BUR is a highly versatile type of roof. Installation is possible on several different types of building designs and layouts. Second, with the proper exterior coating it can reflect sunlight and UV waves helping keep a building cool, which is vital during the Arizona summer. Third, these types of roofs are very long lasting, with regular upkeep. Finally, with built-up roofing, the many layers used in its construction help prevent leaking and water intrusion.   
Why Choose Castile Roofing?
When looking for a flat roof contractor, you need one who understands the unique challenges Arizona weather presents. Arizona climate consists of blistering summers, heavy rains and fierce wind during the monsoon season. It also has unexpected hailstorms during the winter months. Commercial roofing needs to be well made and correctly installed to stand up to the environment. When a business is looking for roof repair and construction they need a contractor who knows the area. Castile Roofing IS such a contractor.
At Castile Roofing we have worked in Mesa, Scottsdale, Tempe, and Phoenix and their sister cities for over 10 years. Our skilled roofers only use the best roofing materials for flat roofs. If you are business looking for flat roofing options or roof replacement, call us today for more information. We can assist with your composition roof needs.