About Single Ply Roofing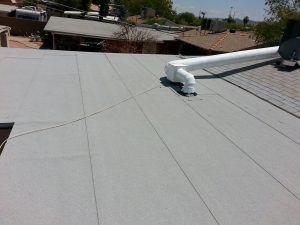 Roof maintenance and replacement is a key part of commercial property ownership. When selecting a roof, business owners and property managers look for cost effectiveness, ease of maintenance, and durability. When looking for the best roof for their businesses, single ply roofs are an excellent (and common) choice. Here's a brief overview of what single ply roofing is and why it has become so popular with businesses.  
Single ply roofing is a type of synthetic rubber roofing that has become an increasingly popular option for many businesses and commercial properties. This type of roofing consists of roofing membranes that are commonly made out of different types of material. The most popular choices are TPO (Thermoplastic Polyolefin) known for its strength, PVC (Polyvinyl Chloride) a lightweight energy efficient roof material, and EPDM (Ethylene Propylene Diene Monomer) an elastomeric material.
Advantages of Single Ply Roofing
A single ply roof offers several advantages for commercial property owners. First, it is affordable and easy to install which reduces business downtime. Second, it is very durable allowing it to withstand the Arizona heat, high winds, and the waterproof membrane protects it from heavy rain during the monsoon season. Third, single ply roofing is easy to repair and maintain. Lastly, the simplistic design of this type of roofing makes it ideal for any type of building construction or style.
Why Choose Castile Roofing for Single Ply Roofing?
At Castile Roofing, we have more than 10 years of experience serving businesses and homeowners in Arizona in the Phoenix, Tempe, Scottsdale, and Mesa service areas. The Arizona weather can be quite severe and it takes quality work to withstand it. That's why we take no shortcuts in the work we do and only use the highest quality products. Our skilled, professional roofers ensure that any roof we install or repair meets the highest standards of quality. We encourage any business that is looking for roof repair or installation of a roofing system to contact us today for more information.