How Much Does A New Roof Cost These Days
The roof protects your house from the elements, by keeping out the snow, sun, wind and rain. However, over time, things can happen that might cause your roof to start letting in moisture which can result in leaks. When they are dealt with right away, roof repairs will usually cost much less than having to have a complete roof replacement. However, if you put off necessary repairs for too long, small problems that your roof has might spread and result in your shingles and roof deck deteriorating, in addition to developing mildew, mold and water damage inside the house. To help with determining when roof repairs should be made, it helps to understand what the cost might be.
National Average Cost for Roof Repair
Home Advisor reports that the national average cost for roof repairs is approximately $652, with a majority of homeowners paying from $316 up to $1,015. However, the total spread in the cost can range from around $150 up to $1,900.
The amount of the variation in roof repair costs is mainly due to several significant factors including the following:
Area where you live
Extent of the damage
How accessible the area is that needs to be repaired
Type of material that your roof is made out of
Whether it is the flashing or shingles that need repairing
The only way of knowing for sure how much roof repairs are going to cost is to have a qualified roofing professional provide you with an estimate. If you can determine some of things regarding that problems that needs repaired, you might be able to have a general idea of what your final cost will be prior to calling a professional.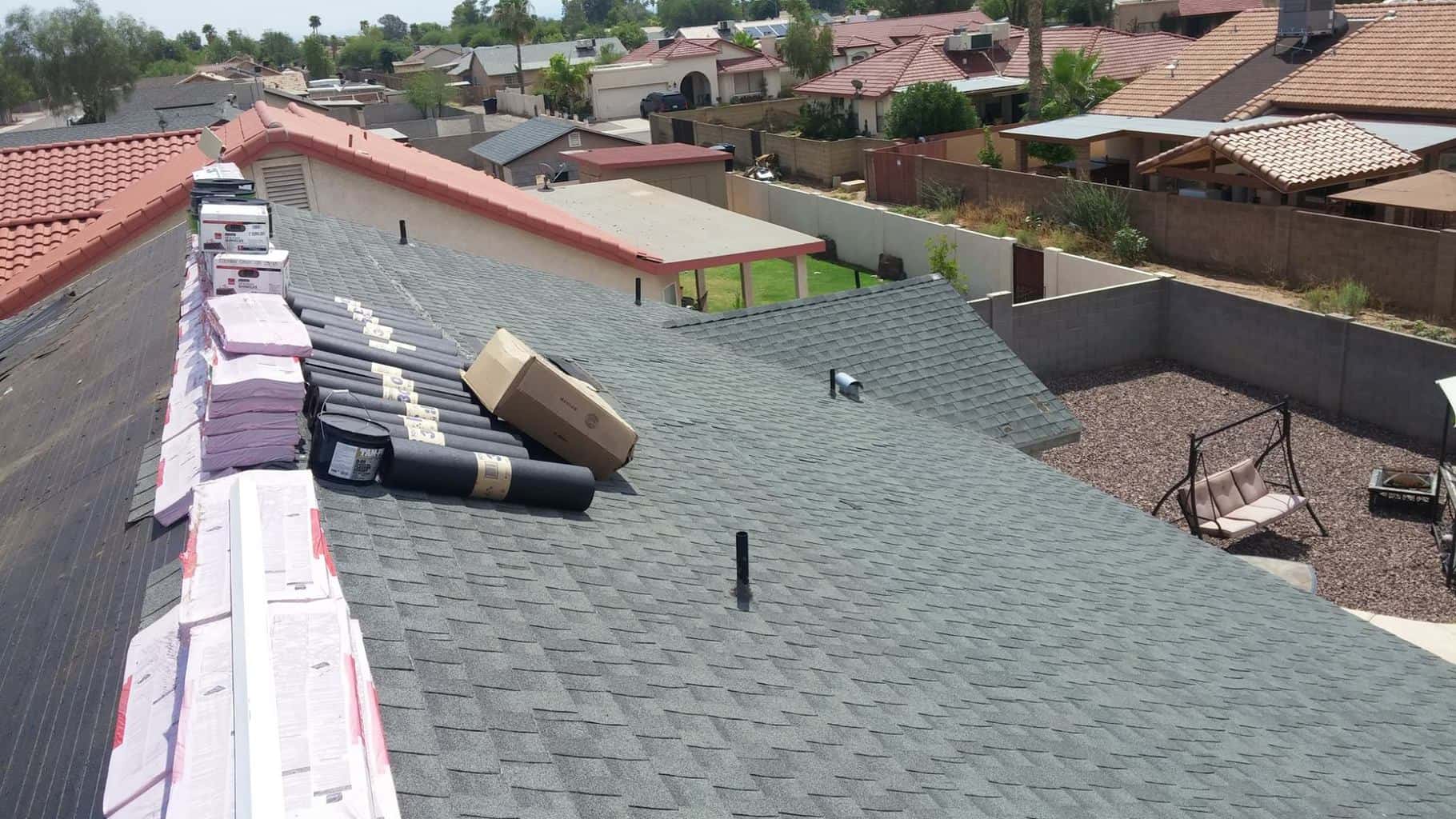 Common Causes For Needing Roof Repairs
It is fairly common to need to have minor roof repairs done. There are a number of different things that might affect your roof and result in it needing a repair at some point. By themselves, none of the problems are really serious. However, if they are not addressed the damage might spread and result in you needing to have a complete roof replacement instead of just a basic repair. Search for the following if your roof is showing any signs of water infiltration or is leaking.
Missing shingles: Whatever material you roof happens to be made out of, over time you might end up losing some shingles. A heavy wind may blown them off or a storm could knock them off.
Damaged, dented or cracked shingles: Slate, asphalt and tile shingles may also be damaged, dented or cracked in a storm or be caused by things such as hail or falling tree limbs.
Leaking flashing: At times the shingles themselves aren't causing the problem. Instead it is the flashing surrounding things such as the windows, chimneys and skylights.
Ice dams: Melting ice and snow on your roof may refreeze on the edges and result in an ice dam. Water can then start backing up underneath your shingles, and cause them to deteriorate more quickly.
Valleys: Water may collect anyplace you have a low spot on valley on your roof, which can cause leaks and shingle deterioration.
Low pitch roofs: It is more likely for a roof that has a low pitch to suffer damage during a storm.
Any of those kinds of damage, in addition to unseen damage that may result in water entering your house must be handled immediately. At times you can't see those signs from the ground. However, you might find signs of mildew, mold or water damage inside your attic which can be an indication that there is a problem with your roof.
Common Roof Repairs for Various Materials
It really doesn't matter ultimately what the cause of the leak is. It is necessary to address the problem before it gets worse. The most common causes for needing a roof repair are below, along with their average repair costs.
Asphalt Shingle Roofs
Home Advisor reports that getting the most common kind of problem for an asphalt roof corrected, like shingles getting damaged in a hail storm or high winds tearing them off will cost approximately $250.
 Wooden Roofs
Repairing a wooden shake roof costs about $360. Problems such as moss build up might cause the shakes to deteriorate to the point that they have to be replaced. You might discover insect activity in cases where the shakes were not treated properly.
 All Kinds of Flat Roofs
Almost all flat roofs including those that are made out of tar and foam will on average cost around $400 to repair. As flat roofs continue to age, they have a tendency to sag in the center. This can enable water to start to collect and then build up on the roof's surface. The water over time will start to break the roofing material down, and force itself through the roof and down onto the deck and cause additional water damage and sagging.
Slate Roofs
It costs around $530 to repair slate roofs. On average they are the most expensive kind to repair. Usually common problems are the result of improper installation which causes a title to slightly stick up when it gets nailed down too hard. Slate roofs are also quite prone to getting ice dams along with the leaks associated with them.
Tile Roofs
It costs an average of $350 to repair a tile roof. Some of the most common problems include tiles deteriorating and buckling from the heat of the sun, which can enable water to infiltrate. Some tile roofs might always leaks, which allows water to collect on the roof deck's underlayment. The underlayment will eventually fail, which will allow water inside the home.
Other Roof Repair Considerations and Costs
In addition to the shingles and flashing, you might also discover that your roof might need repairs to its trusses, gutters, soffits and fascia. These areas are all prone to developing issues such as rot, water damage and cracks, which may spreading to the roof deck and other parts of the deck. When your roof is being repair, your roofer might also discover other kinds of damage that you weren't aware of. Those can add to your roof repair's total cost.
Labor Costs
Costs of labor need to be factored into your roof repair's total costs. This is mainly dictated by where you live. However, remember that another factor can be how accessible the area is that needs to be repaired. For example, an attached house or town house might be harder to reach, which can make the repair take longer.That can increase the total labor cost along with the repair's overall total cost.
The labor cost on average for roof repairs nationwide ranges from $45 to $75 per hour. The final cost is dictated by the kind of roof you have, how extensive the damage is, and how easy it is to reach the damage. Usually the labor costs for Phoenix, AZ are in the middle at around $60 per hour.
Obtain an Accurate Estimate
Quite often roof problems can be a lot more widespread than what you thought initially. If you are having a problem at any point with water getting in your roof, or you have seen any signs of wood rots, mildew or mold inside your attic, then you should definitely call a trained roofing professional to come out to evaluate your roof. They can provide you with an accurate estimate on how much your roof repair will cost. If you are based in the Phoenix, Arizona are we will be happy to provide you with a free quote.
Keep in mind that minor roof repairs are what keep your roof well maintained. This in turn helps to prevent needing to have your roof totally replace. Have your roof repairs performed right away in order to avoid having higher costs in the future.