When you call around to get an estimate on a new roof for your home, the quotes can be from one extreme to another.  You can receive estimates as
little as $4,000 and up around $14,000.  Because the cost to replace a roof in Arizona depends on multiple variables.  For instance, whether you have a tile, shingle or flat roof.  Are there multiple layers?  Is there a patio that ties in to your main roof?  Does your AC unit need to be lifted and moved for the installation?  Lastly, how old your current roof is, and if there were any leaks or roof repairs since it was last replaced.   Castile Roofing will thoroughly assess your roof with our on-site evaluation, and discuss with you the cost and work to be done.
The Cost to Replace Roof & Considerations Along the Way
Castile Roofing does not have a sales team.  Therefore, we do not try to pressure you or pad the price of your roof replacement.  Because our company prides itself on being upfront and honest with our customers from start to finish.
When Castile Roofing provides an estimate to replace your tile or shingle roof it is done "per square".  Which in the roofing industry, equates to 100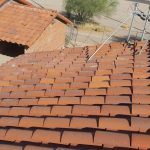 square feet.  And, more than not, your roof exceeds what the square footage is of your home itself.  Therefore, depending on how sloped your roof is and how it is shaped can affect the roof's square footage.
With our expertise, and skilled management team, we utilize Google's satellite view to assess your roof.   This allows us to respond promptly with an initial estimate of materials and labor.  After that, we will schedule a roofer to do an on-site assessment.  This allows us to conduct a more thorough assessment and determine if there is any possible damage that can be seen.   Thus, allowing us to provide an accurate and finalized estimate.
Replacing Trim & Fascia
If you are having your roof replaced, this is the only opportunity to have the wooden trim and fascia pieces replaced as well.  Because both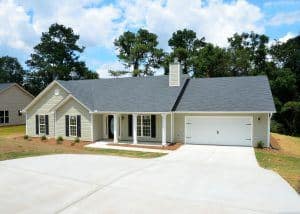 trim and fascia nail in from the roof itself.  Whether it is needed due to it deteriorating, or just a preference, this is the time to discuss it with your roofing professional.  You can just replace some pieces where it is needed, or replace the fascia entirely.  It can be quite a large cost, but  really adds more aesthetic appeal to your home overall.
Replacing Your Roof
When it comes to replacing your roof, you need a qualified roofing professional to take care of your needs and wants.  In addition, your roofing company should provide you with full disclosure of how the labor costs breaks out as well as the materials.  If they are not able to break down all of their charges, or have hidden fees, call Castile Roofing today!  We value integrity and honesty above all else.  So, when it comes to quoting a full, new roof, we're upfront about all costs, labor and potential problems.  Arizona homeowners will have no surprises when calling on us for a roof replacement!