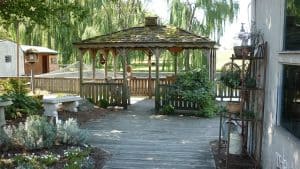 Walking deck replacement is unfortunate, but at times necessary.  Because if you and your family are looking to once again enjoy the comfort of your deck, you need to make sure it can be done with a sound foundation and structure.  That's where Castile Roofing comes in.  Our professionals can provide a quote free of charge to assess if a partial or complete replacement is needed.  As a result, we will reconstruct the serenity walking decks provide.
Signs That You Need Walking Deck Replacement
Have you noticed that lately that there are more trips, slips and falls on your walking deck?  Are there appearances of cracks, chipping or crumbling in areas of your deck?  Does the wood of your deck have any discoloration or stains that have appeared recently?  Or does it feel as if it is shifting or you see the erosion and feel the instability of its foundation?  If your answer is yes to any of the above questions, it is time to contact Castile Roofing to tackle the need of replacing your deck.
Because we live in Arizona, we are able to live in a state that enjoys sunny days almost year round.  Although, in some instances, it tends to weather the foundation and structure of our walking decks quicker than in most areas of our country.  Therefore, you need to know that your investment into any walking deck replacement will be done by professionals.  That is exactly what Castile Roofing provides to our customers!
Get an Estimate Free of Charge
By contacting Castile Roofing, you can schedule an appointment to assess how extensive the damage is to your walking deck.  Our technician will note all of its findings from the inspection and present our findings and an estimated quote.  Upon accepting our quote, we will schedule to send out our team of professionals for you once again to enjoy the bliss your walking deck brings you!
Please click on the bottom right and you will be connected to an assistant via live-chat.  We can answer any questions you may have and get the paperwork filled out quickly.  You will soon be contacted by a technician to schedule an appointment and regain a walking deck you can enjoy!