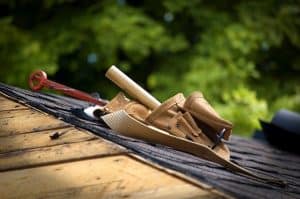 There is never a convenient time to have to deal with having a leaky roof.  Here in the Valley of the Sun, our roofs provide us protection from the excessive heat waves and monsoon seasons from the summer months.  Because of how extreme these elements are at times and can affect the health and safety of your roof.  Therefore, if you find that you need leak repair Maricopa residents, you can rely on the services of Castile Roofing to take care of your roofing needs.
Signs Your Roof Needs Leak Repair Maricopa Residents:
Water spots on your ceilings or walls.
Raised nails in your shingle roofing
Damaged skylights, roof vents or chimneys
Missing or damaged metal flashing on your roof seams
If you suspect that you have a possible leak in your roof, it is best to take care of immediately.  Because roof leaks can cause damage in multiple ways and be very dangerous if left unattended.  For instance, mold in the walls, which can affect your physical health.  As well as being a fire hazard to your electrical system.  As a result, it can be costly financially, physically and cause unneeded stress for you and your family.
Give us a call or click on the bottom right of the screen to request an estimate for the leak repair from our skilled management team.  Or you can click HERE to fill out a quote request to get an estimate.  
Accurate Estimates and Quality Roof Work
At Castile Roofing, we strive to provide attentive and quality service to your roofing needs.  For an estimate, give us a call or contact us via live-chat.  Our management team will assess the repairs needed, along with the time and materials needed to properly provide leak repairs that are needed.  After that, we will give you a call back with our assessment and estimated cost to you.  If you choose to hire us to repair your roof leak, we will schedule a day and time to start the job.
We will keep in contact with you from start to finish on any roofing services provided for you.  Letting you know when we are on our way to begin the job, and the progress of your roof repairs daily, until they are completed.
If you need any guidance with having your roof repairs or replacement covered by your insurance, please let us know how we can help.
Castile Roofing provides quality service at affordable prices in Maricopa, Casa Grande, Eloy, Coolidge and the Phoenix areas!