Residential Roof Repair
Castile Roofing Provides The Best Roofing Repair In Phoenix, Scottsdale, Tempe and Mesa, Arizona!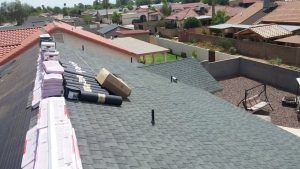 Although most roofs require some type of repair, maintenance or re-roofing about every 10 years, if you catch it early enough you might just be able to avoid any expensive interior damage as well as alleviate you worries about the next monsoon season here in the Valley of the Sun.
Roof leaks can be caused by age, deterioration, improper installation or from storm damage. We provide our customers with roofing repair services on just about any type of roof for just about any problem that might exist. By catching a problem early , we can service your roof with the necessary repairs thereby saving you time and money by extending the life of your roof.
However, when the time comes that you need to replace your roof with a new one, call Castile Roofing first so that one of our highly trained and certified roofers can provide you with a free quote on the work that you need done. Once scheduled, our team will be at your home and resolving your roofing needs in no time! We know that you will be happy not only with our thorough evaluation and estimate for you roof, but also by the fact that we apply the same thoroughness to the actual work. When we replace your roof it means that we remove the current roof, the underlay, examination of the plywood deck, repairs or replacement of the deck, installation of the new underlay and then adding the roofing materials to complete the job.
We can work with:
Shingle
Tile
Shake
Foam
Flat Roofs
Emergency Repairs
Re-coating
Flashing Repairs
Leak Prevention Services
Rotten Wood Replacement
General Repairs
Skylight Repairs
Replacement Roofs
Written Roof Inspection Reports
Call us now at 602-687-7282 for a free estimate on the work that you need done.  Contact Us Today.