Asphalt Shingle Installation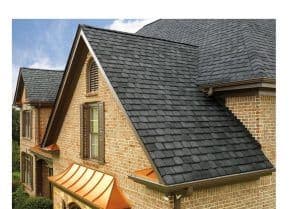 Shingle Installation has been a staple of our roofing services, and many have claimed their Roofing Done Right. But every now and then, we come across homes that would benefit from a different type of Shingle: Asphalt. Therefore, Castile Roofing would like to inform our customers of the benefits as well as the faults of Asphalt Shingle Installation. Providing customers information they need makes them satisfied and invested in our business.
The Overall Cost of Asphalt Shingles
Perhaps the greatest benefit to Asphalt Shingle installation is, undeniably, the cost. While most homes in the Valley are made from Tile, the thought of Asphalt is not uncommon. In fact, a lot of homes that go with asphalt shingle installation as opposed to tile end up saving hundreds, if not thousands, of dollars in maintenance and repairs. Also, because the weight of asphalt shingles are lighter than standard tile, the cost of time (a resource that is NOT refundable) is reduced significantly. This is VITAL in getting into a home as soon as possible. Finally, there's the benefit of low repair and maintenance costs. These repair/maintenance costs can then transferred to other projects for the home, or saved for other financial purposes.
The Look of an Asphalt Shingle Roof
Asphalt Shingle Roofs can be some of the most colorful and visibly unique structures in homes to date. First, they can easily simulate other types of roofing material, such as wood, slate, cedar (yes, that's a type of wood) and more. This gives the buyer more flexibility in getting the desired look of the home that they own/rent out. Then there's the benefit of not looking 'bulky' that metal roofs tend to be, or the 'cookie cutter' style of tile roofing that is the main roofing style in the Valley of the Sun.
Are there ANY Setbacks to an Asphalt Shingle Installation?
Yes, there are. First, while costs are cheaper, so can the material used sometimes. Most roofers that go with Asphalt Shingles will try to get the cheapest material possible and then markup the price; all the while claiming it high-quality. Another setback is that yes, asphalt shingles are lighter and smaller, but it also makes it harder to narrow down potentially damaged ones (unless they are of different colors, which in most cases they are). That also means the cracks and tears are smaller by default; making it timely to isolate the exact problem.
Can you Really Handle Asphalt Shingle Installations in the Valley of the Sun?
Of course, we can! We can't be called a roofing company if we can't install roofs; be it tile, residential, commercial, etc. Our expertise has allowed us to handle all types of roofing from Phoenix to Glendale; Paradise Valley to Tempe.