Although your roof may appear to be in good shape on the surface, often times roofs contain damage beneath the surface that may lead to deterioration of your home. While some wait for the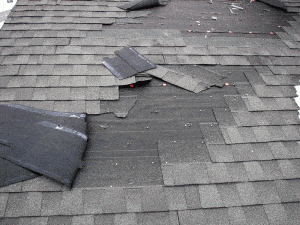 shingles to start falling off, doing so will only result in irreversible damage and a costly roofing bill. It is best to check your roof for damage periodically to best asses when it is time to replace your roof.
When inspecting for damage, here are a few signs
The first thing you should be looking for is noticeable damage to the shingles. Shingles protect your roof from water damage, and damage to a shingle means damage to your underlayment.
Others in your neighborhood are getting their roofs replaced. Typically, when someone in your neighborhood is getting their roof replaced, it is time to have your roof inspected. If your house was built at the same time you may have mold or water damage caused by leaks without being aware.
If your roof looks old or worn and you are selling. You may want to replace your roof in preparation of a move as this will greatly increase your resale value. A well done and low cost roofing job can net you $10,000 or more on the final sale total.
Discoloration of the shingles. Discoloration and moss does not always mean that your roof needs to be replaced. A 50% water and 50% bleach solution sprayed with a sprayer will make your roof look close to new. Do not use a pressure washer as this can remove protective sealants and layers used to keep your roof healthy.
Your shingles are shrinking and or curling. This is a result of water absorption in your shingles and means you either have a leak or are not far from one. If this is the case, give us a call for a free roof inspection.
If your roof is made of shingles and is 20 years old, it is time to replace your roof. Most shingle roofing lasts a maximum of 25 years, and anything above 20 years will leave you prone to water damage.
You are on your roof for inspection and there is a bouncy or buoyant touch to your step. Typically, this is a result of moisture absorption by the ply wood covered by your underlay. A good way to see if this is the case is to look for condensation in your attic.
You remodel a room or inspect your dry wall and there are signs of moisture. If the moisture is near a water pipe or water spout, it may be a plumbing related leak. Anywhere else and it is a leak from your roof. In this instance, you will want to remodel your roof as soon as possible to prevent further damage
Repair Options
Even a new layer of shingles may leave your roof susceptible to water damage if done poorly. If you notice any of the signs above and are reluctant to have an inspection done because your roof is "new", do not wait any longer. When it comes to getting the job done you have two options.
Reroofing: Reroofing is when you lay a new layer of material, shingles in this instance, over an existing layer that is showing signs of damage. This will save you on the overall cost of the roofing project as you will not have waste removal fees. You will also save on labor costs, as this route is typically a faster job.
New Roof: A new roof is the best option as you generally do not want to keep existing roof damage underneath your new layer. This will lead to devaluation in your home if you are selling, and will not give your new roof the maximum lifespan possible. The process of constructing a new roof includes shingle removal, underlayment removal, and laying down new ply wood. Going with this route will give your roof the maximum lifespan possible.
If you suspect that your roof has damage and is ready for an inspection give us a call. We will send out one of our roofing professionals with years of experience to give you a quote. Along with a quote, we will inform you on what kind of damage we see. We educate you on what exactly it is we are doing, so that you know just where your money is going.
Our professionals will travel to YOU for your free roofing quote in Phoenix including Scottsdale, Mesa, Gilbert, Glendale, Tempe, Cave Creek, Apache Junction, Surprise, Sun City. We are an A+ rated company registered with the BBB.