About Flat Roofing Systems
Flat roofing is one of the oldest examples of roof construction methods still in use. These roofs are easy to maintain, repair, and can last for several decades with proper upkeep. Common in homes in the Valley of the Sun, flat roofs are an affordable and long lasting addition no matter what the home's design. There are several different types of residential flat roofs homeowners have to choose from.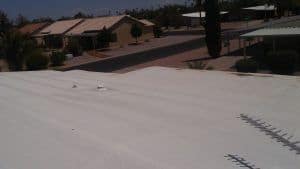 These include:
Built-Up Roofing: Roofing constructed via several different layers. Using a combination of hot tar layers spaced with waterproof layers and a granular outer layer BUR is tough and weather resistant.
Modified Bitumen Roofing: is a popular choice for Arizona homeowners. Modified bitumen is similar to –

but not the same as – asphalt, making for a roof that can withstand the heat of the summer and the moisture of the monsoon season. With light colored finishes, heat is further reflected reducing indoor temperatures and saving on cooling costs. Also, advancements in technology have reduced the use of asphalt making these roofs safer and easier to install.

PVC Roofing: Roofs made from poly vinyl chloride (PVC) plastic. These roofs are affordable and resistant to harsh environments. PVC roofing resists UV rays and is waterproof, making them an ideal solution for the Arizona weather.
Cool Flat Roofing: roofing specifically designed to handle hot environments. This is a MUST for Computer Server and Information Technology rooms. Arizona summers come with intense heat and arid winds. Because of this, non-specialized roofs become easily damaged and home cooling costs increase. Cool flat roofing reflects heat and expands and contracts as the temperature changes, keeping the home's temperature from climbing. This temperature control keeps cooling and heating costs lower. This not only increases comfort but also saves on electricity costs.
Why Choose Castile Roofing?
Castile Roofing has been serving residents and businesses of the greater Phoenix, Mesa, Scottsdale, and Tempe areas for more than 10 years. Arizona weather is something every local roofing contractor has to take into consideration. We offer over a decade of expertise in flat roof repair and flat roof construction for houses. To that end, we are uniquely qualified for residential roof construction and repair. Our roofers use only the best products for flat roofs. We take no shortcuts, and we proudly stand by the quality of their work. If you are a homeowner or business owner who needs roof replacement or repair, contact us today to learn more.