About Wood Shake Roofing
Wooden shake roofing is one of the most popular types of roofs available. Found in both modern homes and historical architecture, wood shake roofs have a timeless quality and style that manages to be both classic and modern. Keep reading to learn more about this high-quality roofing option.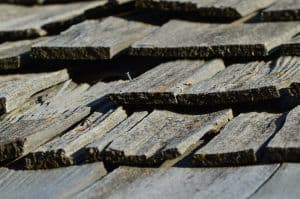 Wood Shake roofing is constructed using wood shingles. A popular shake roof source material is cedar. Aside from being visually pleasing, wood shakes are resistant to all types of elements being able to withstand extreme heat, rain, and droughts – making them ideal for the Arizona climate. Also the natural oils found in cedar allow wood shingles to resist decay caused by moisture. Other advantages include resistance to wind and impact damage and repelling certain insects such as moths. It's easy to see why wooden shakes were used in roofing for hundreds of years. With regular roof repair and maintenance a wooden shake roof can last 30 to 40 years making them a worthwhile long-term investment.  
Different Types of Shakes Used For Wood Shake Roofing
Traditional Cedar Shingles: these shakes have a smooth finish and uniform design. This is the most common type of shake. They are on both private residences and historical properties.  
Resawn Shakes: as their name suggests, these shakes are resawn to create a rougher finish using a split face design. These types of shingles are popular on homes that have a rustic design.
Fire Retardant Cedar Shakes: take common cedar shakes and add polymers to the wood to create a blended shake that has added fire resistance.
Why Choose Castile Roofing for Residential Roof Work?
There are several companies specializing in roof replacement in Arizona. Homeowners in the Phoenix, Tempe, Mesa, or Scottsdale areas are always looking for licensed roofing contractors that understand the weather of the Valley of the Sun.  At Castile Roofing, we understand the specific needs of Arizona homes and our wood shake shingle installation methods take no shortcuts and are done to our high quality specifications. Our roof installation methods keep customer satisfaction in mind. Our company values quality over getting the job done hurriedly. Simply contact Castile Roofing today to learn more.