When a business owner needs a roof repair and they can't afford to wait, they need an expert new commercial roofing contractor. At Castile Roofing, we specialize in several different types of roofing projects, including roof repair and roof replacement. Our diverse clientele includes homeowners and businesses alike. For businesses in need of commercial roof repair or replacement, keep reading to learn more about what we can offer your company.
Services We Offer
A commercial roofing system differs from residential roofing and brings with it its own unique challenges. At Castile Roofing, we have the skill and experience needed to work on commercial roofing repair and replacement.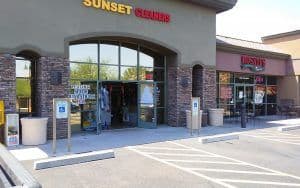 Our highly skilled roofers have worked on a wide assortment of commercial properties, including shopping centers, malls, warehouses, and other structures.
We also specialize in commercial flat roofing repair. Flat-roof construction helps reduce repair costs and is common for many commercial properties in the Valley due to the weather conditions.
However, while they offer advantages flat roofing comes with unique issues that require expert repair. Due to a lack of natural drainage or sloping angles, flat roofing can easily collect water during the monsoon season. This moisture can lead to mold and overall damage to the structural integrity of the roof itself. With our expert repair work, we can repair any damage before it becomes a business liability or a safety hazard.      
Why Do Business With Us?
It takes a certain kind of roof to stand up to the heat of an Arizona summer or the sudden high winds and rain that can occur during the monsoon season. With over a decade of experience serving customers in Phoenix, Tempe, Scottsdale, and Mesa, there is no other roofing company that understands the needs of Arizona businesses better than we do.
Any business that needs roof repair or replacement is encouraged to contact us today. Remember, we stand by our work, our roofers, the quality of our products, and we'll also work with insurance companies to ensure a quick and hassle-free repair.